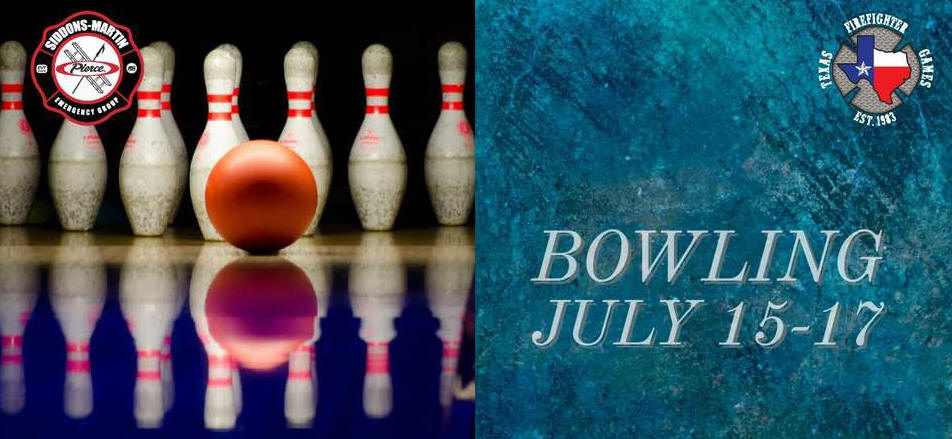 ALL ENTRY'S ARE DUE BY JUNE 1ST!
This year the Games will be held in Mansfield, TX. The Bowling Event will be singles and doubles on Monday July 16 with roll offs to follow and teams will be on Tuesday July 17 with roll offs and medal presentation to wrap up all events.
The host hotel is ­­the Hampton Inn and Suites located at 1640 U.S. 287 Frontage Rd, Mansfield (817) 539-0060 with overflow at Fairfield Inn located at 1480 U.S. 287 Frontage Rd, Mansfield (817) 437-2700.
Due to a National Juniors Gold bowling tournament, we had to look elsewhere for a house. We fill the best fit was Brunswick Lanes Watauga.
The tournament will be held at Brunswick Lanes Watauga, located at 7301 Rufe Snow Dr. Watauga, Texas 76148 – Phone #817.485.2695. The bowling center has 40 lanes. We will accept the first 40 teams we receive.
This year 1st event entry fees will be increased by $5.00 per bowler. These funds will pay for the renewal of the current computer and programs.
As always we will use your TFF Games average. If you don't have a tournament average, you will need to establish and submit a 9 game average along with your entry. All participants must be active or retired certified paid Texas Firefighters.
If you have any further questions please feel free to contact me.
Thank you,
Andy Sissney
Bowling Coordinator
bowling@texasfirefightergames.com
(940) 368-5560
Information letter .PDF Print version
---
Singles, Doubles, and Team Competition are available. A Scotch Doubles Competition is held on Sunday night for Firefighters and one non-Firefighter guest (spouse, etc.).
2018 location of the bowling alley is Brunswick Lanes Watauga, 7301 Rufe Snow Dr. Watauga Texas 76148.
Also I have set up the paypal account tied to the bowling@texasfirefightergames.com.
Entry Forms: DOUBLES (Excel) | TEAMS (Excel) | SINGLES (Excel) | FEES PAID (Excel)
If you cannot type on the either form, please print it and fill it out and then send it to bowling@texasfirefightergames.com.
Online payments can be made below
---